When you are rushing to the office and don't have the time to cook an elaborate meal and at the same time don't want to indulge in calorie piling restaurant food, then you look for easy and quick homemade Tiffin recipes which are healthy, tasty and guilt-free.
These fusion recipes are light on the stomach and perfect on-the-go delicacies which you can munch while you are working in front of your laptop on a busy day or even if it is one of those lazy couch-potato days. Gurvinder Kaur, who has won the hearts of foodies of Amritsar as she makes these winning recipes in her Café NSqare. We are delighted to have her share these awesome recipes on Plattershare. So, here are 9 easy and yummy tiffin box ideas which you should try and also do read the inspiring story of Gurvinder who has a very interesting story behind these recipes.
Pin Wheel Sandwich : Easy, healthy Tiffin box recipe idea, this quick recipe is filled with healthy ingredients. It is a perfect on-the-go solution for your busy day. Just flatten a few pieces of bread and fill the mix of shredded carrot, cucumber, sweet corn all tossed in mayonnaise, ketchup, and mustard sauce and roll the sandwich with a cling film. Let it rest, cut it like a swiss roll and there you go. Sounds exciting! Click for the recipe – Pin Wheel Sandwich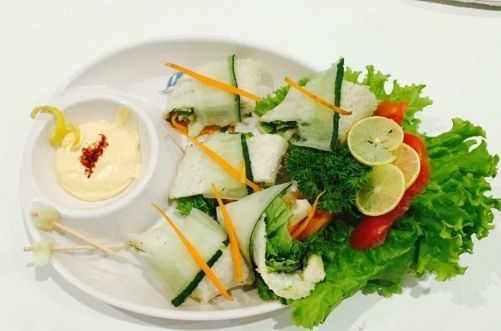 Mexican Burrito : Burrito in Indian style is a zero-waste recipe as you can make it with left over biryani or rice. Make the Baida Roti (What's that? – something similar to Tortillas ),  put shredded chicken, dash of herbs and leftover rice, Squeeze Mayo dip and you can pack your lunch in a jiffy without the guilt of wasting left over food. Hey you got a food makeover too. Click for the recipe –Mexican Burrito
Eggless French Toast : Yes, you heard us right! These French toasts are without egg. Really? And that's called as Innovation. Simply replace Eggs with custard powder! Add ingredients like sugar, cinnamon to give the flavour and make a paste by adding milk. Coat your bread with this custard mix and Voila your French toast is ready. Don't forget to top it up with whipped Cream and fresh fruits. Click for the recipe- Eggless French toast
Chilli Cheese Veggies Toasties : if you are planning Chilli cheese toasties for your get-together, chai time or as a snack for your kid. Add veggies of your choice to make it healthy. Kids will love it. Just add melted butter, cheese, salt to taste, jalapeno, oregano, chili flakes, crushed garlic and veggies like capsicum, corn and onion. Grill the bread (preferably garlic bread) for 8-10 minutes. Click for the recipe- Chilli Cheese Veggies Toasties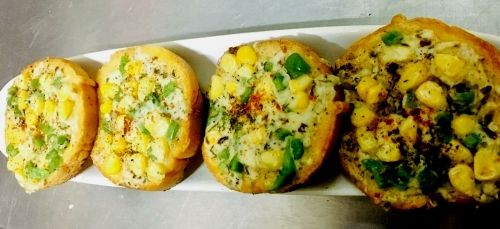 Home Made Garlic Bread : If you love garlic bread but have never tried making it from scratch then this recipe is for you. This garlic bread is infused with flavours and herbs. Once you learn the knack of making the bread at home then you can keep experimenting. Here is the simple recipe to make Home Made Garlic bread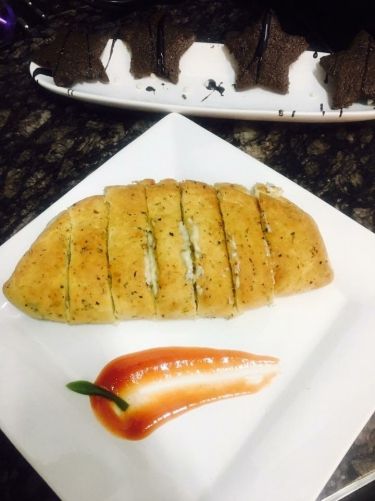 Cornflakes Sandwich : Peanut butter, marshmallows and breakfast cereals will be a delight on your breakfast table. And this is all you have to do, Take the bread, spread peanut butter and top it with marshmallows and banana, make a sandwich put this the simple pancake batter, coat it with cornflakes to give crunchiness and fry them. Click for the recipe- Cornflakes Sandwich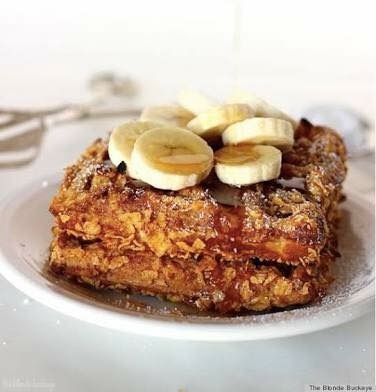 Anda Ghotala : This is a Game Changer Egg dish, which has boiled, scrambled and half fry (sunny side up) all the dishes infused in one. This dish is served in one of the kiosk shops in Ahmedabad and was shared by Celebrity Chef Saransh Goila in one of the events. Our Chef recreated the magic of Anda Ghotala (Literally Egg Scam!). Click for the Recipe- Anda Ghotala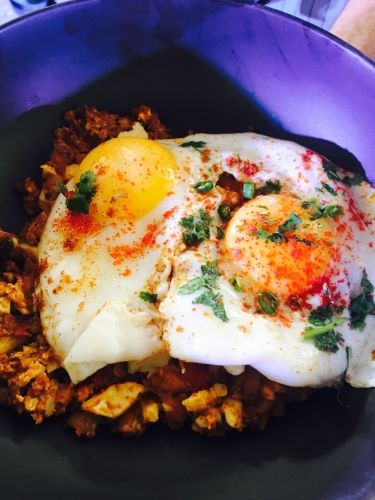 Strawberry Halwa: The Indian Besan halwa gets a twist when Strawberries are added to give a completely different flavor. Add blanched pistachio to add more nutrition to the simple besan halwa. It's a true fusion dish. Click for the recipe –  Strawberry Halwa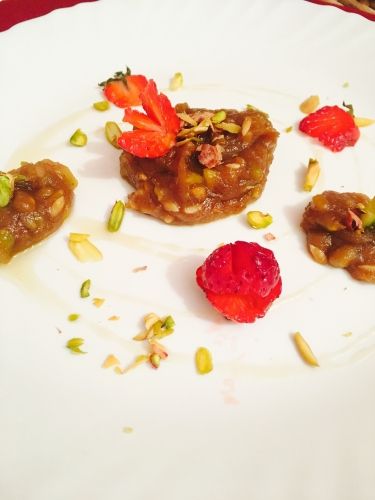 Gurvinder Kaur's inspiring food journey started when she was doing her Masters from the UK and supporting her brother's store back in 2012. Always interested in innovating and twisting traditional dishes to give a unique flavor she started "Small Indian Deli" with Indian curries and Naans and it was an instant hit with all the Brits. After getting this phenomenal response, she realized her true calling. While she came back to India and got married, her passion for cooking and doing something in the culinary world kept her motivated.  She got her first break when she participated in "Kitchen Superstar" of Amritsar and then there was no looking back.
She cooked with Celebrity Chef Harpal Singh Sokhi of "Turban Tadka" fame during the first episode of "Punjab de SuperChef Session 2". Her road to success didn't stop at one episode and she became the Regional Winner from Haryana and Punjab for "HyperBudding Chef" organized by HyperCity and FOOD FOOD Channel. With all these laurels in her bucket, and motivation and support given by her family, especially her husband and Brothers, she decided to open her own Café known as NSQUARE Café in Amritsar which is a now well-known eatery for fusion food in the City of The Golden temple.
She quickly became a well-known face in Punjab as she was honored by the PTC Punjabi channel on VOICE OF PUNJAB 7 finale along with local TV Channels covering her inspiring story. Inspired by her mom, whom she calls an iron lady and supported by her brothers, she trains the needy in culinary skills so that they can earn their living. She feels that Food and Cooking chose her and she is just following the path. She has worked with Celebrity Chef Rakhee Vaswani, Super Chef Saransh Goila and Chef Sarah Todd and feels excited about her upcoming projects. A true inspiration, she believes in doing her part and she is gearing up for many more plans which the future holds secretly for her. Did we tell you that she has been recently selected as semi-finalist for  "Mrs. India contest 2017"
If you would like to follow Gurvinder Kaur, Follow her on Plattershare, Facebook. If you have a similar inspiring story drop us a mail at [email protected]