Hyderabad is famous for Charminar and is called "City of Pearls". The city is equally famous for its cuisine which comes from the kitchen of the royal family of Nizams. One of the viceroys of Mughal dynasty was governing the Deccan Region, once the Mughal dynasty weakened Asaf Jah became independent and gave himself the title of "Nizam". Hence the Nizami cuisine has Mughlai, Turkish, Arabic and Persian influences. Hyderabadi cuisine has so much to offer beyond Biryani, Mirchi ka Salan, Baghara Baingan. Nawab Mehboob Alam Khan, a renowned Food Historian and Culinary Expert says " Cooking of Rice and meat, we owe it to the Central Asians. Hyderabad cuisine is of 4 types Banquet Food (Biryani, kebabs, etc), Everyday Food, Festival Food and Travel Food. The main stay of Hyderabad food is lamb." So lets's go on the journey of delectable delicacies from the kitchen of Nizams:
Marag
Marag is a spicy mutton soup with pieces of lamb, spiced with pepper served as a starter with Sheermal (a variety of milk bread) in Hyderabad. In Hyderabadi Muslim Weddings , Marag is a must in the spread of food. Mutton chunks with the bone are boiled in a pressure cooker along with spices such as salt, ginger and black pepper. After couple of whistles, dry fruit paste (consisting of almonds, cashews and pistachios) roasted in ghee is added to the broth in the pressure cooker. The soup is then cooked for 45 minutes to 1 hour and served hot.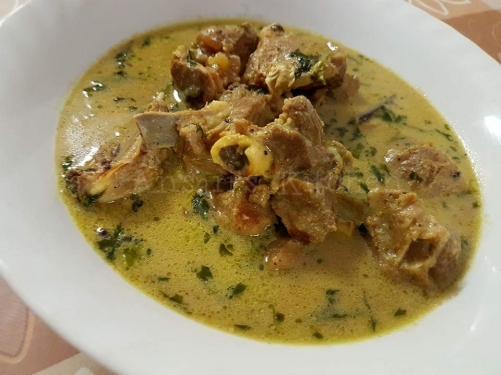 Hyderabadi Nahari
Nahar in Urdu means "Morning", hence the delicacy got its name and is generally served early in the morning. Nahari is a rich soup made of tongue and trotters of the lamb slow cooked with variety of spices. The meat is pressure cooked along with turmeric powder, onions and ginger garlic paste till tender. Once done Nahari Potli Masala, which has about 20 masalas (coriander seeds, bayleaf, sandalwood powder, stone flowers, star anise, dried rose petals, roots of betel plant, black peppercorns, dried vetiver roots and many more) is knotted in a muslin cloth and immersed in the above meat masala, is cooked on low flame till roasted well. Next the gravy with meat is tempered with little fried sorghum flour (jowar atta), milk, ginger garlic paste, red chilli powder, salt, cilantro and green chillies. It is garnished with fried crushed onions and served hot. Think how flavorful it would be! Just imagine!!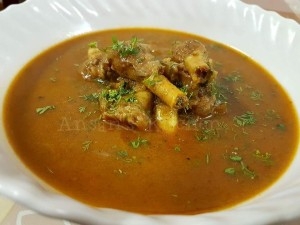 Shikampur
Shikam in Urdu means "Belly". Shikampur is a minced meat cooked in form of a flat patty with the stuffing of hung curd and other spices. Mutton meat and Split Pigeon Peas (Toor Dal) are boiled with spices like cilantro, green chillies, mint, red chilli powder, garlic paste and salt till tender. The meat masala when ready is blended well and made into flat patties. A hole in patty is made and is stuffed with hung curd, onions, chopped coriander and salt and red chilli powder. Once done, the kebab is deep fried and served with garlic chutney.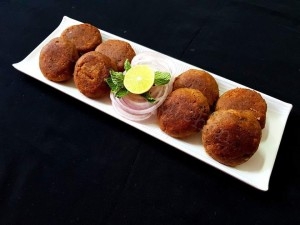 Mulla Do Pyaza
World renowned Food Historian and Culinary expert of Hyderabadi food, Nawab Mehboob Alam Khan says "In the past, say about 50-60 years back, people had to travel to villages, they had their lands and transportation was not up to the mark. Hotels didn't exist, roadside eateries were not there. They were dependent on the food they used to carry along. The food must have shelf-life and should not get spoiled. The evolution of Travel Food took place in Hyderabad. The main approach is we used to cook without water. There are certain things which were avoided like water and citrus (Lime) because it causes fermentation." This delicacy is mutton meat fried in ghee, tempered with salt, ginger garlic paste, red chillies and saffron. This fried meat is served with Roghan Roti. This roti is a special kind of roti as the dough kneaded ghee, milk, salt and sugar. A little fat than paratha and no longer than the size of palm. Roghan Roti is topped with fried meat and is garnished with small pieces of cottage cheese, coriander leaves, and lemon juice (optional) and chopped green scallions. Imagine how this dish would melt in the mouth!!!
Khichra
Khichra is similar to Haleem, yet different. Haleem is made with wheat, barley, mutton meat, lentils and spices. Whereas Khichra is made with mutton meat, lentils and spices alone. In a vessel mutton with ghee, bone marrow, salt, garam masala and red chilli powder is cooked overnight. There are five lentils which are cooked separately till soft and split. Once, the dals are done, they are added to the mutton meat which is being cooked. The pulses and mutton meat is then pounded and roasted with ghee together, till it turns into thick paste. Khichra is served hot with ghee on top.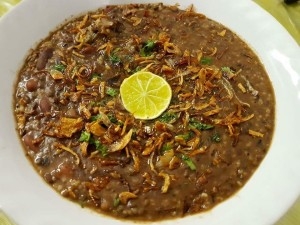 I hope you all enjoyed reading about Hyderabadi Deccani dishes and would love to try them. So visit Hyderabad and indulge in the delicacies!!!
P.S. This article has been written by me with the inputs from Mr. Qutub Alam Khan, owner of Chicha's Restaurant, Hyderabad and the book Hyderabadi Khasa written by Begum Parveen Khan. To know more about Hyderabadi Deccani Cuisine view the talk by renowned Food Historian and Culinary expert Mehboob Alam Khan.