Now everyone knows the Chandigarh for its cleanliness, greenery, and well organized structure but what people don't realize is that this small city presents a large variety of food that one only gets to taste when he's in the Tricity. Chandigarh is the dream of every food lover who wants to try something new that blows away his mind but is available at an affordable price, and because of the city's small size, the eateries here are in a state of perpetual competition as a result of which, the food quality will barely ever disappoint you. The city flaunts of numerous eating joints which offer a plethora of lip smacking food items at almost every corner of the city.
You must be wondering what's so special about the food culture here that's receiving my never ending praise. Well, let me give you a glimpse of a few things my city has to offer which define the word 'foodgasm' in every possible way.
Pizza Cones And Deep Dish Pizza
Yes, you heard that right! Pizza in a cone! Imagine a cone filled with mozzarella, pizza sauce, and various pizza toppings of your choice. Every bite oozing with cheese in a way that it melts in your mouth. From pepperoni to corns to exotic veggies, they have all the toppings you can think of. Head to Crusto's in Sector-8 and grab your cone of cheesy goodness. If you like your pizza the conventional way but are looking for something new and extra cheesy, I Don't Know Café, Setor-7, is the place for you. Deep dish pizza has a crust of the height of minimum 2 inches and what do the fill all that place with? CHEESE! More and more cheese. And who doesn't love cheese?
Cheese is the first thing that comes to our minds when we think of fondue. The second could be chocolate. How about Pav Bhaji? Sounds absurd? What if I tell you that it tastes amazing no matter what it sounds like. Or how about a Paneer Lababdar or say a Dal Makhani Fondue? Now I have your attention, don't I? Bigwich offers these 3 along with Paneer Afghani as another option. These are accompanied with Indian breads and salad. Don't believe me? Take a look at the next picture. Worth a try, ain't it?
Pink, black or green, you name it, we got it! Superdonuts is a domestic chain based only in Chandigarh that offers you kickass colorful burgers. They're not just pretty on the plate but on the palate, and pocket as well. Available in veg, chicken, and fish, these are the most photogenic burgers you'll get to see around. Does your Instagram feed need a new burger you can flaunt of? Head to Superdonuts and there's the splash of color you've been longing for.
Remember those chemistry lab sessions when you'd wonder if the beakers were going to be of any use ever in the real world? How about use them to serve fries? Sounds weird? Well, awesome is the word you're looking for here, I believe. Uncle Jack's offers a variety of fries both veg and non veg. They're crisp, chunky, cheesy, and saucy. Plus, did I mention that the beaker is a take away jar? Also, Uncle Jack's started the trend of take away glass bottles, and jars for shakes, fries, mocktails, etc. in the city which was then followed by various other eateries. Glass over plastic any day. That's the motto here. No wonder we're the most eco-friendly city in the country.
When I think about the food scene of Hawaii, the first thing that comes to my mind is fruits and freshness. Especially, PINEAPPLE. Don't you agree? And like they say, you eat with your eyes first. Amigo's Café in Phase 3 offers just that. Fruit juice in a fruit. Fruit sundae in a fruit. Pineapples and watermelons are what they serve those in. Va Sano, Sector-8, serves their Hawaiian salad in the same. I prefer those over glasses and plates, to be honest.
Best Keema and Butter Chicken
Given the fact that Chandigarh is the capital of Punjab and Haryana, one would expect it to have authentic Punjabi food in abundance. Fret not, that's one thing the city boasts of, a never ending list of food joints that offer scrumptious Punjabi food. Pal Dhaba, Sector-28 is the best place to have it. Ask any Chandigarhian and they'll tell you the same. A must try there is Butter Chicken and Keema Kaleji with Garlic Naan and your taste buds would have entered a different universe by the time you're done eating.
These are just a few examples of the many interesting things that would interest a gourmand's mind. Taste buds and eyes looking for a new, and exciting change? Book your tickets to Chandiland now and experience the magnanimity of the people, the scenic views, and the delectable variety of food, all in a 30 km radius.
Pizza coneDeep dish pizza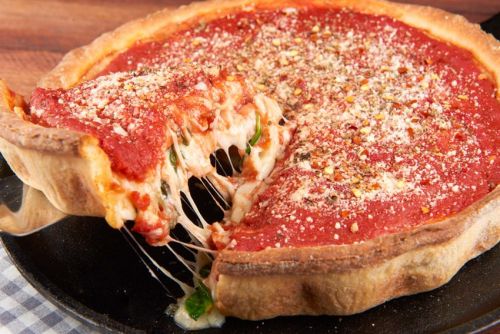 Fondue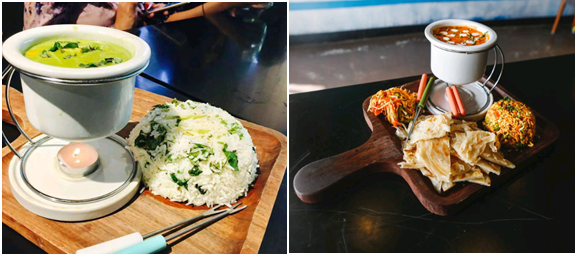 Burgers
Fries uncle jack's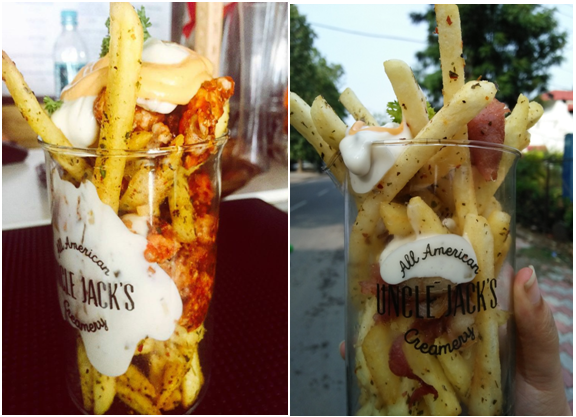 Amigos cafe
Amigos cafe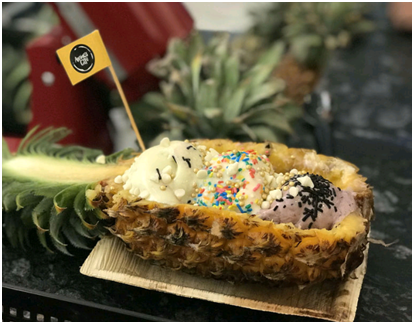 Va sano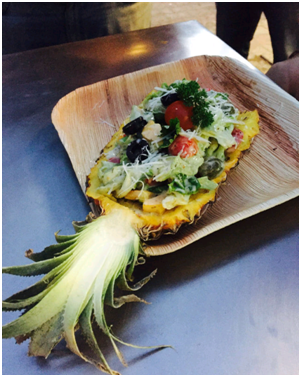 Pal dhaba