When it comes to rice dishes, let's all unanimously accept that Biryani or Biryani Rice tops it all. Nothing can even touch it. So, it's no surprise that this magic dish has a long history dictating why it's come to the place it is in today.
Just as Biryani has so many variations, the story about its origin has even more variations and controversies. Some assume that Biryani originated in Persia, which is modern day Iran and travelled with the Invaders and traders to India while others sources say that Biryani was the creation of the same magnificent woman who inspired the Taj Mahal; Mumtaz Mahal, to feed the soldiers and so the cooks made a one pot dish – Biryani Rice.
So, where did Biryani really come from? Well, does the story of origin really matter? It is the grandeur, aromatic and exotic taste that really matters to the foodie. Biryani Rice or just Biryani as people love to call it, is a one-pot Pan-Indian dish, which is the journey of transforming plain rice into a marvelous dish whose unique flavor comes from the meat and spices like saffron, nutmeg, cardamom, mace, cumin seeds, coriander seeds, bay leaves and whole lot of ghee and yogurt. Can you ask for more? We're lucky enough to experience this sensational dish that really should be a cuisine on its own.
Do you know how biryani travelled through India? This picture reveals the whole story.
What Is Biryani Today?
Coming to the most interesting part; what biryani has become today. Variations are plenty and in so many ways, starting from the names; Hyderabadi, Awadhi, Calcutta, Lucknowi , Kasmiri, Arcot, Ambur, Donne and the list goes on. From Mutton Biryani, prawn biryani, chicken biryani to even a 'vegetarian biryani', which is essentially pulao. Biryani implies that meat of any kind is being added to the rice. The original biryani is made with mutton; however, today we have options ranging from chicken, shrimps, prawns and yes Vegetables too so there's really no limit to your imagination. So, let's take a look at the differences that we Indians have made to this world-famous, and loved-by-all, meal!
Rice
This is one of the major ingredients in a Biryani, obviously. In different places, different kinds of rice are used in making biryani. A long grain Basmati rice was the norm in Northern India, whereas shorter grain called as Seeraga Samba grown in Tamil Nadu was used in Southern India. It is very important to know how to cook these two varieties of rice as if they turn mushy, It would spoil the whole dish. Check out how to cook Basmati rice and Seeraga Samba Rice. 
Meat
A very essential (and non-negotiable) part of the biryani, the meat is what makes the biryani complete. Just like the rice is cooked prior to being cooked together with the meat, it's important the meat be marinated. Traditionally, mutton is used, but you can replace it with almost any other meat. You can have beef, chicken, shrimp, fish, or even just plain egg. 
Vegetables
This is something most people don't expect in a biryani but then there is a vegetarian community and they should not be deprived to taste the wonders of the dish and so there is vegetable biryani, sometimes called as pulav or Tehari. Again, depending upon the region carrots, beans, potatoes, cauliflower, and peppers go into the dish. You can also personalize it and add dry plums, beetroot, and jackfruit.
Spices
This is what distinguishes Biryani from any other rice dish. The quality, quantity and the way the spices are used gives variations to the biryani for eg. Hyderabadi Biryani is spicy where as Andhara Biryani from the same region is not so spicy. Some traditional essential spices used cardamom, bay leaves, mint, coriander, cinnamon, saffron and rose. For added flavor, go ahead and add cashew nuts, or raisins, but be forewarned, many don't prefer to have nuts in their Biryani. Here is a video on How to make Biryani Masala at Home –
Handi
If you want to be as historically (and flavor-fully) accurate as possible, you need to get a handi. This is what you will need to make the original biryani. Once both the rice and meat are cooked separately, they're layered in the handi. The bottom-most and top-most layer being the rice, with the meat and spices in the middle.
Once your Biryani Masala is ready, you would be interested to know How to make the authentic Biryani and here is the easiest recipe to make the most traditional Hyderabadi Mutton Biryani.
How many Calories does Chicken Biryani have?
Moment the word Chicken biryani is uttered by a biryani lover, the whole battalion of fitness freaks will pounce on him or her giving those dirty and nasty looks as if they have devoured the unhealthiest, calorie rich and fatty food ever. They will curse everyone around for spoiling their regime of health and fitness. These are the health conscious people who start their day with a healthy protein-rich peanut butter sandwich. Well, do you know how many calories does an average Chicken Biryani have? The average bowl (430 gms) of Chicken Biryani has around 430 Calories*. Now compare that with 2 slices of brown bread with peanut butter, which is a whopping 650 Calories*. Yes, you heard that right!  That should help you put things into context, the choice is yours J.
*Calorie specs courtesy HealthifyMe Calorie Counter
Which is the perfect book which you can buy to make perfect biryani?
Once its known that eating biryani is no more a sin and it's all about reviving our traditions and going to our roots. Here is one highly recommended book from none other than Deeba Rajpal (Read Deeba's interview on Platetrshare), famous for her food styling and photography, Biryani by Pratibha Karan (Also read Deeba's Review on the book). She is the Biryani expert, an IAS officer who retired in the Ministry of Food Processing Industries in 2003 and has vast knowledge on Hyderabad cuisine particularly Biryanis.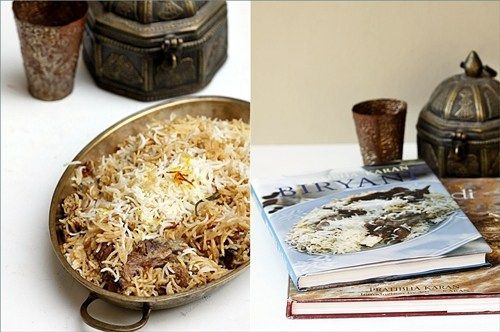 Who makes the Best Biryanis?
Do you remember how a Women set fire to 42 buses fleet just because she was offered Biryani and Rs 100. Now This is a really crazy stuff to do for biryani.
Last but not least, battles have been fought between the biryani lovers who claim that their City has the most authentic, delicious and tasty biryanis. I bet if you are standing in the land of Nizams and open your mouth to say that Nawabs make the best biryani in the world, a bloodshed would happen near Char Minar. So we want to avoid all the controversy and let you admire your favorite biryani. Pick your favorite and leave a comment below.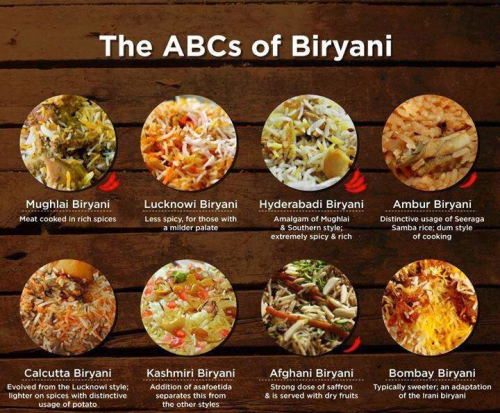 Few Recipes to try at Home
The good ol' classic! Who can hate chicken dum biryani? Anyone who hates chicken dum biryani should get their taste buds checked out! The meat is succulent and the rice flavorful, if nothing, give this a try! Here's the Hyderabadi version of Chicken Dum Biryani  and  Kolkata version of Chicken Dum Biryani. Mind it they are different and you dare not mix the recipes 
This one's for those veggie lovers. Yes, in this day and age, food is owned by you! So, go ahead and enjoy this vegetable biryani! Here's another version of the same; called a Tehari Biryani. It comes with an overload of potatoes, with the warm mixture of spices adding extravagant layers of flavors. Try out this recipe   for Nawabi Tarkari Biryani or Vegetable Tehari Biryani and you'll have a lot of love for biryani (if you don't already!)
Mumbai Tawa Biryani : Mumbai is the city that loves to eat and everyone is very well versed with the fact that Mumbai has the best pav bhaji and tawa biryani joints and if you feel like indulging the in irresistible taste of tawa biryani. Click for the Recipe
Have a go at these yummy recipes and put your biryani to the global taste-bud test, everyone loves biryani, it's a proven fact!