Taiwan, the secret gem of Aisa is yet to be explored and here is the reason why? Check out 9 traditional and authentic dishes from Taiwan. These dishes will definitely give you a call to go to Taiwan and taste them and So we thought why not go to Taiwan and taste them. Participate in the contest run by Taiwan Tourism Bureau, India and get a free culinary trip to Taiwan
Don't forget to know about the dishes and here you go.
1. Lu Rou Fan (Braised Fatty Pork on Rice)
One of the most popular dishes of Taiwan, Lu Rou Fan or braised fatty pork on Rice is made when soft and tender pork belly is braised in soy sauce. When the oil is hot in the wok, let the pork belly sizzle in it and once it's no longer pink, it's time to add the spices and sauces. While the pork is in the mood to absorb the sauces, add garlic and shallots, let it cook and serve it with rice. This melt in your mouth pork is so Taiwanese! And if you want to eat the authentic version, you need to visit Taiwan. If you are looking for the recipe to try at home, click here for the recipe
Pic Credit: Source
2. Niu Ron Mian (Beef Noodles Soup)
This is the National pride of Taiwan or the National dish of Taiwan. It earns the honor of being the National dish because it is made with a lot of care and effort (It takes a lot of preparation time too) and is an amalgamation of multiple ingredients and spices. The Beef cubes are caramelized with some sugar. Jumbo scallions and ginger are caramelized as well separately. With lots of aromatic herbs which goes in the making of this dish, it surely deserves a mention in the best of global cuisine charts. Serve it hot with your favorite noodles. The dish requires a mammoth four-hour effort from preparation till it is ready to be served, so if you would like to skip all the effort, you can treat yourself to a readymade bowl in Taiwan. If you are up for the marathon challenge, then click for the recipe.
Pic Credit: Source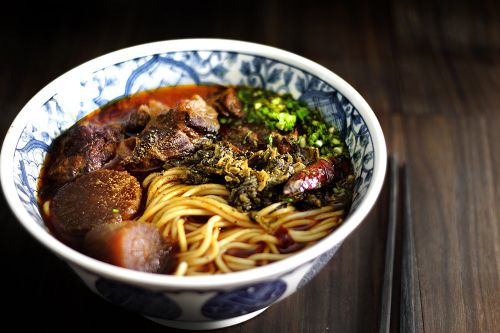 3. Stinky Tofu
As the name suggests, it really stinks! And people get put off by the smell but a true foodie is the one who follows his taste buds over olfactory senses. And do you know why it stinks? Because it has stinky fermented bean curds added to the tofu. If you want to make it at home then here is the recipe but bet nothing can beat the experience of having this in the night market at Shilin and Raohe street. Click for the recipe.
Video Credit: Source
4. Xiao Long Bao (Steamed Soup Dumplings)
You would have eaten momos or dumplings many times but Xiao long Bao comes with a healthy rich beef soup. Made from pork bones and skin this soup can be preserved for up to 6 months. Make the steamed dumplings and dip them in the soup to have a hearty and healthy meal. Click here for the recipe
Pic credit: Source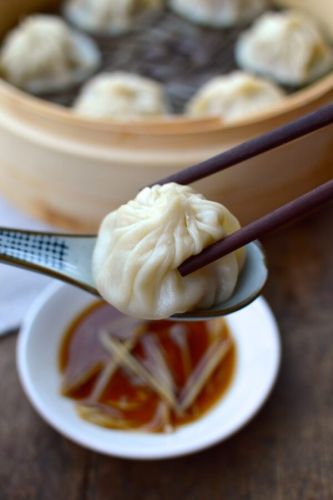 5. Bao Bing (Shaved Ice Dessert)
A delectable sweet treat which stretches your imagination. You can put anything, literally any topping and every time you will be amazed to eat the Bao Bing or Shaves Ice dessert. These monster ice creams are a Taiwanese specialty and shops are lined up just to serve it. Shaved ice is flaky and fluffy which is topped with a topping of your choice, be it Boba (Tapioca pearls), green tea mochi, peanuts, jellies, candies, fruits, condensed milk or if you are unable to decide from the myriad options available, just ask them to put everything on the counter and your Bao Bing is ready to dig in. Click for the recipe.
Pic Credit: Source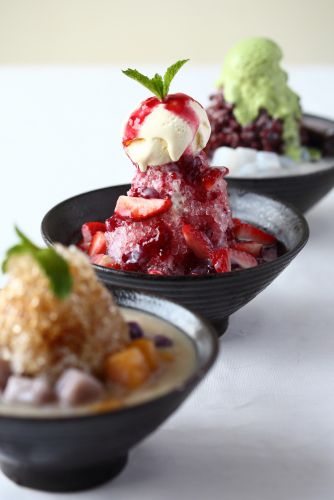 6. Moon cakes
This is a must have during the moon festival which is celebrated in mid-autumn across the country. The traditional moon cakes are round which symbolizes the reunion and togetherness of a family, as this is a family festival. It can be sweet or savory, and is commonly used as a gift when visiting friends or family. Click here for the recipe.
Pic credit: Source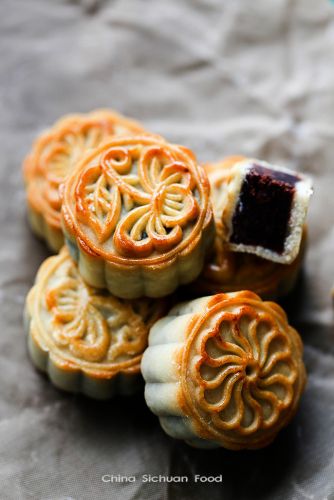 7. Bubble Tea
They invented it and the world is proud and thankful that they did! The chewy Boba or tapioca pearls which look like black bubbles when added to sweet and cold tea give the name to this unique beverage. It beats the summer heat as it has the goodness of Iced-tea and serves as a sweet treat for the sweet tooth. Click for the recipe
Pic Credit: Source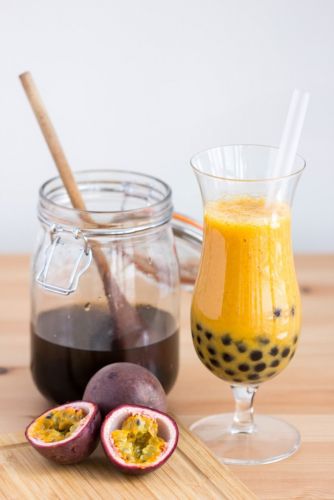 8. Oyster soup
An abundance of seafood makes this soup readily available and a wholesome meal which you can have any time of the day. The Thin noodles go very well with fresh Oysters and Taiwanese Oysters are traditionally larger in size unlike other parts of the world. Click for the Recipe Oyster Soup
Pic Credit: Source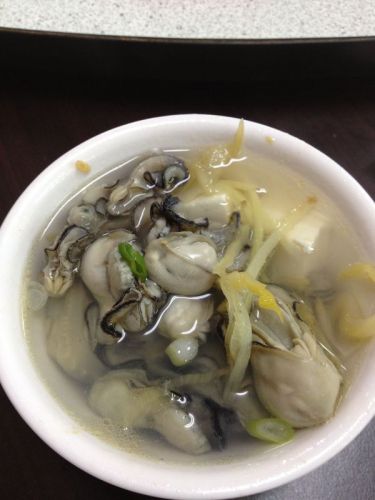 9. Coffin Bread
The name might put you off and might be scary to some, but you really must try it! After all, that's the reality of life, so enjoy it! This famous Coffin bread is shaped in form of coffin and yet enjoyed across Taiwan. A thick bread loaf is opened from the top which looks like the lid of the coffin and the excavated part is filled with sauces, seafood, and meat. This is one dish which is true to die for! And yes, your coffin is also ready J Am I scaring you? Well enjoy life to the fullest and add Taiwan to your bucket list. Click here for the recipe
Pic credit: Source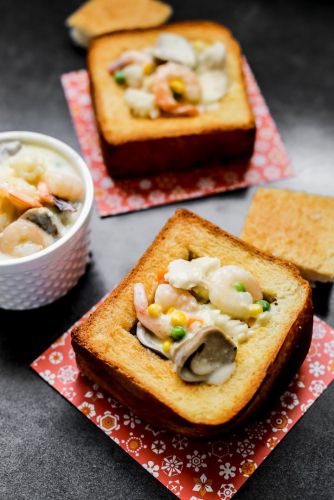 And Taiwan is a must visit to enjoy these delicacies and street food. Yes, We have shared the recipes just to let you know how it would taste but the real taste and essence would only come when the dish is made by the expert cooks, from the place where the dish originates, who have been treating visitors with these traditional dishes since ages. And if you are looking for an opportunity, there has never been an easier way to win an all-expense paid trip to Taiwan – Participate in the contest, Check out the details and just comment on FB page of Taiwan Tourism