"Salads are saviours when on a weight-loss program but store-bought salad dressings are high in calories. Learn how to make an easy homemade honey mustard recipe to enjoy your salads while you are on diet."
Why? Because in today's world, instead of "Cleanliness is next to godliness", it's better off as "Healthy physique is next to godliness". In a place where "being healthy" and "wellness" matter as much as your qualities and inner potential, the tiniest changes in your diet come a long way. One such way is to replace sugar with honey in your diet as honey has lot of health benefits – check out the health benefits of honey.
With the tight schedules and heavy workload, one often relies on salads that can be refrigerated away, are hassle-free and low on the calorie scale. Incorporating a healthier option like honey mustard in salad dressings and sauces is the perfect cherry on the cake.
So before we took a look at how to make the honey mustard sauce, let's breeze through the types of mustard and the appropriate mustard for this recipe.
Generally paired with honey, meats and cheeses, mustard is an essential part of the spices and condiments family. It is prepared from the seeds of the mustard plant that are ground to make different types. They are mixed later with wine, vinegar, lemon juice, water, etc. to give it different colours and tastes. They could be anything ranging from bright yellow to dark brown and sweet to spicy.
This mustard (a.k.a regular mustard) is widely used in the United States. The bright yellow colour is due to the presence of turmeric in the natural pale yellow colour. It was introduced by George T. French who thought that Americans prefer a mild taste.  It is a favourite dressing in American foods like hot dogs, burgers and pretzels.
Also known as the Spicy Brown Mustard, it is made from coarsely ground seeds which are soaked in less vinegar than standard seeds giving it speckled brown appearance. Since it is prepared with horseradish, it is slightly on the spicier side. It is often mixed with cinnamon and ginger.
Dijon was originated in Dijon, France in 1336, while the mustard was first used in 1856. The original version made use of verjuice (acidic juice from unripe grapes) instead of vinegar. These days, it is made with lower acidic liquids like white wine instead of verjuice.
This variety is also popularly known as granary mustard. The distant taste arises due to the use of brown and black seeds instead of yellow and wine instead of vinegar. It is a perfect choice for ham sandwiches and cheese plates.
It is one of the spiciest mustard of all time along with Karashi. Colman's was amongst the first ones to produce this bright yellow mustard using a mix of yellow and brown mustard seeds. Its best form is powder form which is mixed with cold water.
It is very much similar to Dijon mustard, except the fact that the seeds are heated slightly more. It is generally mild to hot. As we move from West to Dusseldorf, the mustard gets hotter due to more spices.
These originated in Cremona in Italy. Big chunks of fruits were preserved in hot and sweet mustard syrup giving it a spicy sweetness. Traditionally, it is served with cold meats and cheese.
The edgy and spicy taste of this mustard is enhanced by using pungent black and brown seeds that are whisked in cold water followed by heating. Adding vinegar or refrigerating tones down the spiciness, so freshly prepared ones are preferred over store bought.
Prepared in a 1:1 ratio of honey and mustard, it is used as sandwich or salad dressing, marinade. It is often accompanied by fish fingers, fries, pork chops as a honey dip due to it's sweet and tangy taste.
For making our very own honey mustard sauce, good quality Dijon mustard is required. This mustard goes way back in 1336 when it was used for the table of King Philip VI. It is the traditional mustard of France where it was found in a town called Dijon in Burgundy. It is famous for its piquant and pungent taste. Addition of cream mayonnaise as our third key ingredient gives it a silky texture. Plattershare Guest Blogger and HomeChef Vidya Narayan from Masalachilli simplifies the making of honey Dijon mustard for us.
So, let's check out the recipe in detail to make our very own batch of Homemade Honey Mustard Sauce.
Recipe for Home Made Honey Mustard Sauce
Prep Time – 10 mins
Cook Time – Nil
Serves – 4 nos.
Cuisine Type – America
Honey Mustard ingredients
Dijon Mustard – ¼ cup

Mayonnaise – 3 tablespoon 

Honey – ¼ cup

Salt – ¼ tsp

White Vinegar – 1 teaspoon

Sweet Paprika – a pinch (optional)
Method –
In a clean and dry glass bowl, add the required quantities of Dijon mustard followed by mayonnaise and honey. Thoroughly mix the ingredients to achieve uniformity.

Next, add salt and vinegar and mix well. Alternatively, you could also add sweet paprika to this.

Your sauce is ready to use for different purposes. The contents of this sauce should be stored in a clean and dry glass jar or bottle.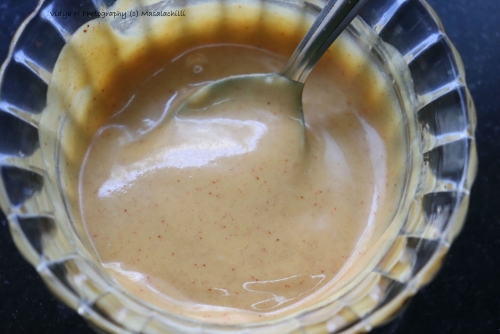 Secret Tips –
This sauce stays fresh in the refrigerator for a week or maximum of 10 days.

You could also prepare the 

honey mustard dressing

for salads with this sauce by replacing vinegar with lime juice. Olive oil and black pepper compliment raw vegetables and greens the best. Add them to boost up the flavour.

Alternatively, freshly squeezed lime juice can be used for the same quantity of vinegar. Although, the shelf life of this sauce slightly decreases.

Low fat or eggless mayonnaise can also be used if you want to cut down the calories.

Add sweet paprika to give your sauce an appetising colour.

Addition of freshly ground black pepper is also optional.

Keep a check on the quantity of salt added while making this sauce as the core ingredient i.e. in this case, Dijon Mustard, has a fair amount of salt already.
Ways to use the Honey Mustard Sauce
They serve as an excellent meat dressing for barbequed meat/chicken skewers. It can be drizzled over salad bowls and healthy veggies or fruit skewers. Since the sauce is on a sweeter side, it is loved by kids as well.

This

honey mustard dipping sauce

can be used to coat your lightly steamed veggies like corn, capsicum, french beans, broccoli, Brussel sprouts, snow peas etc.

It can be used as a

honey dip

for crunchy raw salads like carrot sticks, cucumber sticks, courgettes or zucchini, beetroots etc. to make spice up boring food.

The very famous Subway style sandwiches can be made at home using this sauce.
In just 10 minutes you can make this delicacy which can be incorporated in a number of delicacies. Everyone's delight, honey mustard chicken, is now very easy, cheap and definitely better than paying a hefty amount of price in restaurants. It is definitely an economic and healthier option than the ones sold in supermarkets that are packed with preservatives.
So if you are in for something even healthier, take a look at the honey mustard vinaigrette which makes no use of mayonnaise.
Recipe for Home Made Honey Mustard Vinaigrette
Prep Time – 15 mins
Cook Time – Nil
Serves – 4 servings
Cuisine Type – American 
Honey Mustard Vinaigrette ingredients
Garlic Cloves – 1 nos finely chopped

Dijon Mustard – 3 tablespoon

Honey – 1 ½ tablespoon

Olive Oil – 2 tablespoon

Salt – ½ teaspoon

White Vinegar – 1 teaspoon

Black Pepper Powder – ¼ teaspoon
Method –
In a clean and dry glass bowl, add the required quantities of Dijon mustard, finely chopped garlic cloves, honey, olive oil, salt, vinegar, black pepper powder followed by thorough mixing, preferably with a whisk.

 

The vinaigrette is ready for use. Store the contents in a clean and dry glass jar with a tight lid.
Secret Tips –
 

The vinaigrette stays good in the refrigerator for 2 to 3 days. It is best when consumed immediately.

  

Lemon juice can also be used instead of vinegar but this decreases the shelf life.

  

Extra virgin olive oil enhances this vinaigrette. 

  Addition of Sweet Paprika or cayenne pepper adds a lovely flavor and gives it a spicy kick.
Ways to use the Honey Mustard Vinaigrette –
 

You can drizzle them over salad bowls, namely your rocket leaves or arugula, iceberg lettuce and Lolo roso lettuce variety that are slightly bitter in taste.

 

Your very own Indian style salad i.e. Kuchumber aka Mix Veggies Salad (the finely chopped version) can be accompanied with this vinaigrette instead of the regular curd and cumin combination.

Grilled Pineapples or Pears get an additional burst of flavours when drizzled with this vinaigrette.
Once The honey Mustard recipe is ready you can use the sauce as the side or dip to appetizers. Check out some of the healthy and delicious appetizers. 
Appetisers are important when you want to make a good impression on your guests. Broccoli is loved by all. This steamed broccoli recipe which is served with homemade honey mustard sauce will make sure you ace it. Check out the recipe for Steamed Broccolis with homemade Honey Mustard Sauce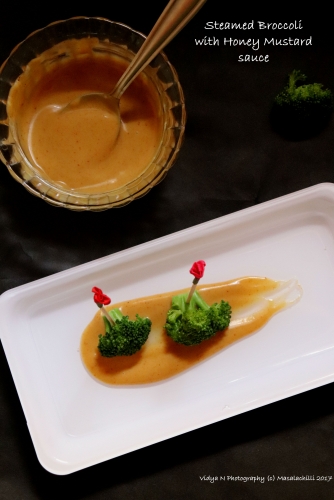 Leftovers can be boring when the only person you cook for is yourself. Not to worry, this iceberg lettuce and strawberry salad made with homemade honey mustard vinaigrette will save you from the deed. This fun combination will surely leave your taste buds wanting more and more. Check out the recipe for Iceberg Lettuce and Strawberry salad With Homemade Honey Mustard Vinaigrette 
So make it at home and enjoy it fresh!!!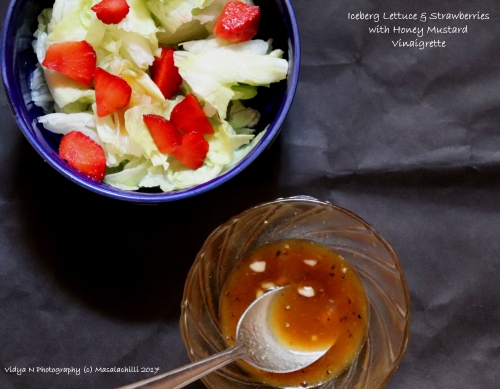 About the Author: Vidya Narayan is a Food Blogger & is passionate about healthy vegetarian cooking and baking. Her Blog Masalachilli is a dedication to her Mother, from whom she learnt cooking. She was an HR Professional and now pursues her passion for teaching along with cooking. She has some of the most wonderful recipes and secrets to cooking like an expert. You can follow her on herTwitter handle, Facebook Page, Pinterest , Instagram , Google+