Going up north in India, The states welcome you with their sweets and is a must have when you visit these states. So next time when you are planning for a tour don't miss to eat these lifetime memories making sweet dishes.
1. Baqerkhani : Bakarkhani or Baqerkhani are a type of layered sweet bread from South Asia. Though it originated in Bangladesh it has become one of the important parts of Kashmiri breakfast which are served hot and fresh. Baqerkhani is more like a puff pastry, which is round, crispy and layered made with flour, semolina, butter, milk, sugar, ghee and cardamom and topped with sesame seeds.
2. Modur Polav : It's the sweetened version of dry fruits filled Kashmiri pulao. A dish to relish, saffron is the main spice of this sweet delicacy from Kashmir which is always served first at wedding wazwan. It's made from ghee, sugar, whole cardamoms, cloves, cinnamon , saffron strands and lots of dry fruits like almonds, raisins, dry coconut ,dried dates. This is the true heaven on the plate.
Image Courtesy: flywithkrrish.com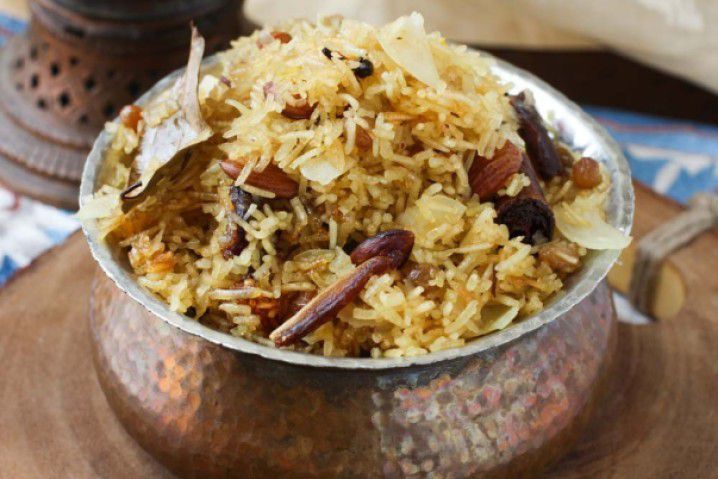 3. Shufta: A rich, delicious and mouthwatering delicacy from Kashmir. It is a recipe which has dry fruits as the main ingredient unlike usual recipes where dry fruits are added for garnishing. Dry fruits are well roasted in ghee and the flavour of aromatic spices like cinnamon powder, ginger powder, cardamom powder and dry rose petal leaves makes it an unforgettable dish.
Image Courtesy: whiskaffair.com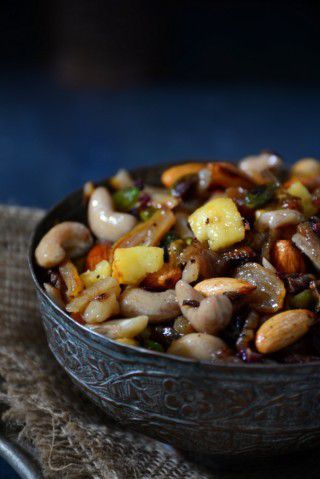 4. Sheer Korma: This dish has travelled all the way from Afghanistan and is now the first dish which is served on Eid day as breakfast. Sheer means milk and korma mean dried dates. Traditionally this dish was made from fresh dates and no sugar was added as dates are sweet themselves. In between the long old journey of sheer khurma, vermicelli was added. It is a complete nutritious meal in itself as it contains loads of dry fruits and milk. It's a breakfast which is served to family and friends to show the love and hospitality during Eid.
Image Courtesy: Fawad Ahmed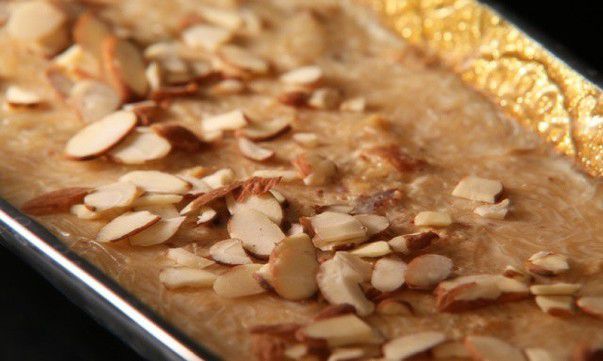 5. Malpua: This dish is served to Lord Jaganthan in puri during his Sakala Dhupa (morning food served to the lord). The history of Malpua is as old as Vedic time when it was called Apupa and it has travelled from there to get different versions in India, Bangladesh and Pakistan. A dish which is served to Hindu god Jaganthan and enjoyed by Muslims during Ramadan for iftar (meal to break fast) is in a true sense a dish for uniting everyone via food. Prepared usually with maida or semolina, coconut or ripened banana, Sugar and deep fried in ghee, it's served with Chilled Rabri.
Image Courtesy: lapetitchef.in
6. Amritsari Lassi – Frothy, fresh sweet (and savory too) Amritsari or Punjabi lassi is a must have if you are in Punjab. It's served in a huge metal glass which can become a complete meal in itself if you have a small appetite. A dollop of freshly churned white butter floats on the top of lassi. What makes Amritsari lassi so delicious is the way it's churned with hands to give the best flavour.
Image Courtesy: Railyatri.in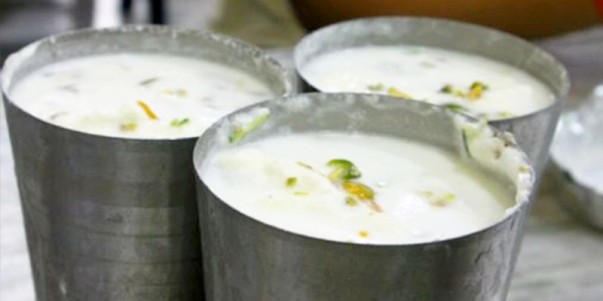 7. Churma ke Laddo: You have heard about daal, baati, churma but how about churma ka laddo. Making churma is a skillful art as you have to knee the wheat flour dough with ghee and cardamom and then deep fry it in low flame so that it doesn't break in the oil. Cool it and make the churma using mortar and pestle or mixer grinder. Then add jaggery syrup to roll them and coat it with sesame seeds. A must have sweet in Rajasthani and Gujarati special thali.
Image Courtesy:stutisfoodconnect.com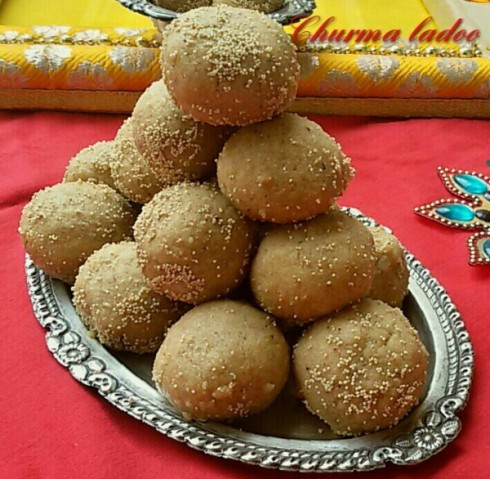 8. Raj Bhog : Also known as Kesar Rasagolla its different from Rasagullas as its stuffed with dry fruits and it bigger in size. You really have to have a good appetite to take one raj bhog. Adding kesar to garnish and prepare it gives a completely different flavour.
Image courtesy: mithaikakhazana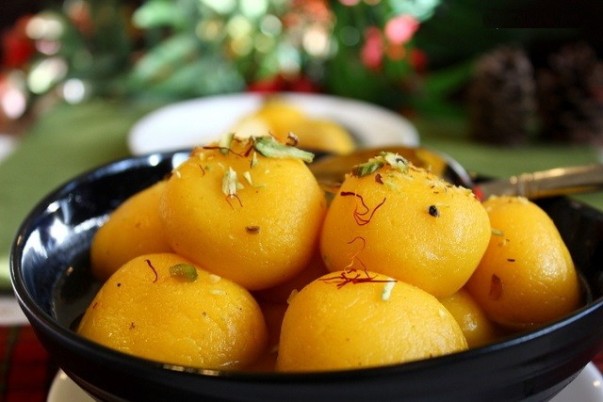 9. Pantua : As Rasgulla so is the Pantua, an equally famous sweet from West Bengal which has almost same preparation as Gulab Juman but the shape is elongated.
Image Courtesy: poetryoffood.blogspot.in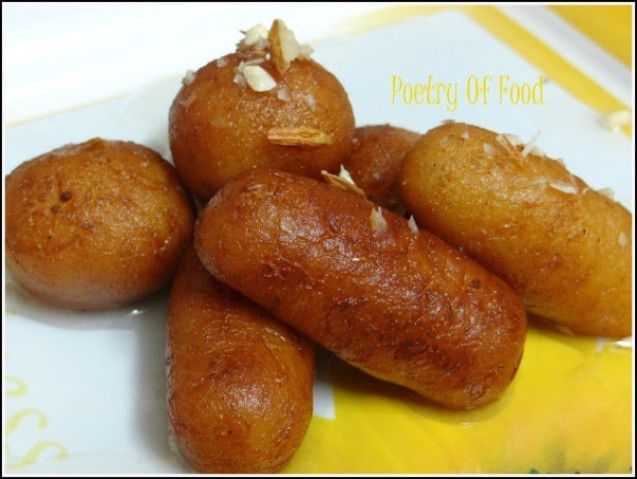 10. Parwal ki Mithai : Usually Indian sweets are made from cottage cheese, maida and ghee but this sweet has a veggie called parwal (botanical name – trichosanthes dioica). The fruit is scrapped to remove the skin, deseeded and slit in the middle and boiled, filling of khoya (condensed milk) and dry fruits is filled to make this delicacy which is a must during Chath Puja (one of the most important festival of Bihar).
Image Courtesy: cookwithruchy.blogspot.in
11. Thekua : A long distance journey companion, this dried sweet cookie is the love for travellers from Bihar, as it has long shelf-life. If your friend is Bihari, I am sure while coming back from summer vacation, this dish would be part of his baggage. Made from whole wheat, jaggery and ghee. It is made into a hard dough and with the help of thekua moulds (you will have to travel to Bihar to get original moulds) these Indian cookies are shaped and deep fried.
Image Courtesy: ambikasukumar.wordpress.com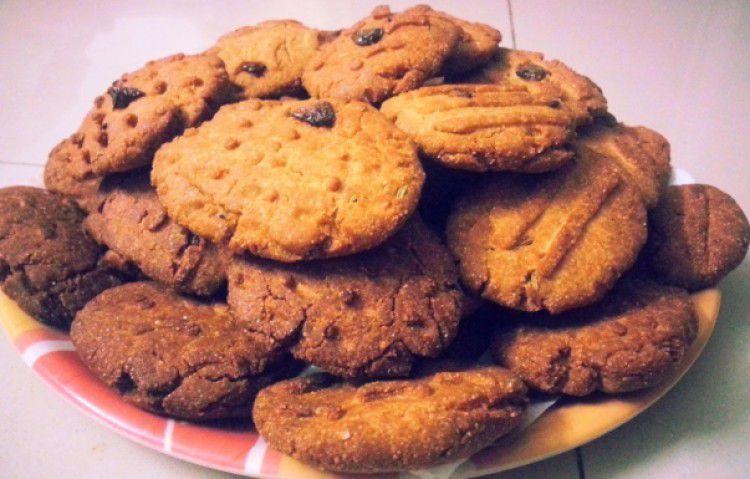 12. Chhena Poda : With a very interesting origin story this sweet is also now becoming one of the reasons for the fight between west Bengal and Odisha as both the states want to claim this sweet and its origin. It's said that once a confectionary owner left sugar to cottage cheese in an oven and due to slow heating for the whole night the sugar got caramelized and gave birth to chenna Poda. This delicacy is now getting popularity in Odisha and West Bengal.
Image Courtesy: bawarchi.com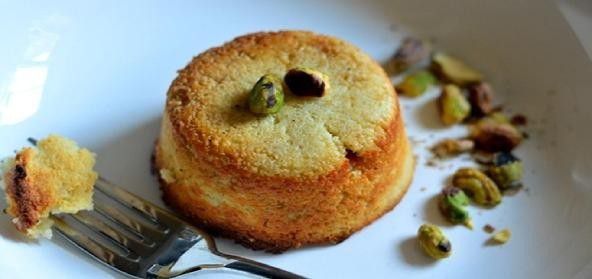 13. Chhena Gaja : A sweet dish from Orissa and if you have to relish the real taste of it, you must make a visit to Orissa as it's hard to find anywhere else. This sweet is made from Cottage cheese and semolina and deep fried before putting it in sugar syrup. So when you are planning to go to Orissa next, do try Chhena Gaja.
Image Courtesy: theodishacitizen
14. Bal Mithai : A delicacy from Uttarakhand which is equally tasty as Chocolate fudge. It is made from khoya and cane sugar which is boiled and condensed to cubes and finally cut and coated with white sugar balls which are like pearls. This sweet can beat chocolate anytime.
Image Courtesy: aajtak.intoday.in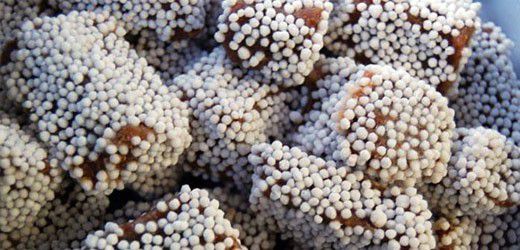 15. Singodi : Another sweet from Uttarakhand, which is made from khoya and wrapped in a special leaf called "Roni" or Maalu leaf which is only found in jungles of Uttarakhand. It's said it tastes even better when stale (one day old) because of the aroma of malu leaf which gets infused in it.
Image Courtesy: vegfoodrecipes.in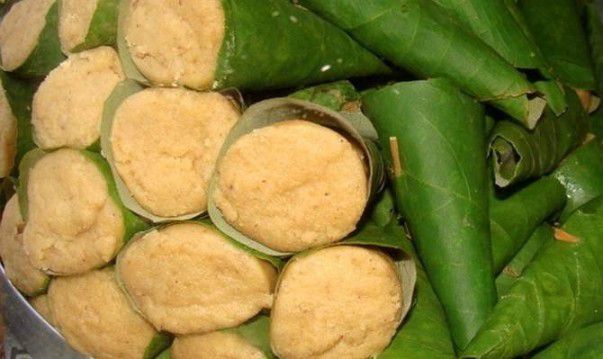 India is a land of sweets and sweetness is the quality of its people. Whenever you are planning to visit any of these states up north, Don't forget to satiate your sweet tooth with these delicacies.