The cuisine of Assam is a confluence of cooking habits of the hills, that favor  fermentation and drying as forms of food preservation, and those from the plains that provide fresh vegetables and abundance of fish from Brahmaputra. The cuisine is characterized by very little use of spices, little cooking over fire and strong flavors mainly due to the use of endemic exotic fruits and vegetables that are either fresh, dried or fermented.
The two dishes which marks the beginning and end of any Assamese traditional meal are Khar and  Tenga. Meal is served in the bell metal utensils which are made in Assam itself by the community called  Mariya. Tamul (betel nut, generally raw) and paan generally concludes the meal.
Rice and Fish are lifeline of Assam and  Joha or scented rice is the most popular one. As a staple diet rice is eaten either steam boiled (Ukhua) or sundried (Aaroi). It's used to make snack like roasted and ground rice called Xandoh. When boiled in its husk and flattened it's called Chira and the puffed form is known as Akhoi.
With Brahmaputra river flowing, the  fishes like rou, ilish and cital (big), khoria (medium) like puthi, borolia, mua, ceniputhi, tengera, etc. are integral part of the meal.
The environs of Assam are rich in vegetation, and green leafy vegetables, called xaak, and dhekia(fern) which grows wild are consumed on the daily basis. There is a bewildering variety that is eaten and according to custom, one has to have hundred and one different xaaks (greens) during Rongali Bihu.
With so much variety and vibrance in the cuisine, Executive chef Anirban DasGupta from Vivanta by Taj, Guwahati humbly agreed to share the secrets of Assamese cuisine. Here are the most relished and must try dishes to try when in Assam.
Assamese Thali – A traditional Asssamese thali consists of a khar( ideally with raw papaya), bilahi chutney ( tomato chutney), labra (a melange of vegetable curry), joha rice (an aromatic rice found in this part of the country , a short grain rice very similar to Bengal's gobindobhog), a xaak bhaji ( an assortment of greens stir fried with little spices and ginger). The Non-Veg Thali includes  dishes like masor tenga and tilor mankho.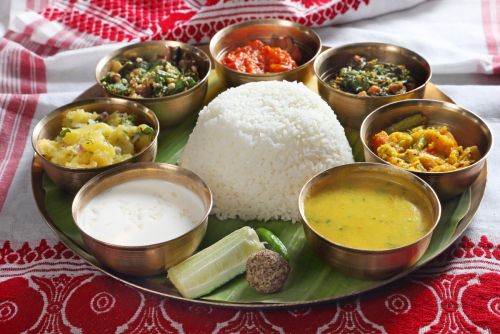 Assamese Jolpan – Assam is a rice eating state and the beauty is several rice preparations that you can see in its breakfast thali which consists of chira(Flattened rice) with yogurt and jaggery. Puffed rice, black rice, akhoi, beaten rice comes together with yoghurt and gur to make up a wonderful and sumptuous breakfast. These are probably some of the earliest form of what we called "Cereals". Assamese people have been eating them mainly as breakfast for many centuries.
Masor Tenga – The masar tenga is a light and sour fish dish, another signature class of preparations. The souring ingredient could be mangosteen or lemon but the most popular is that made with tomatoes. Fish dishes made with fermented bamboo shoot (Khorisa) are generally sour, but they are not called tenga. Fish is fried in mustard oil or curried with bottle gourd or spinach.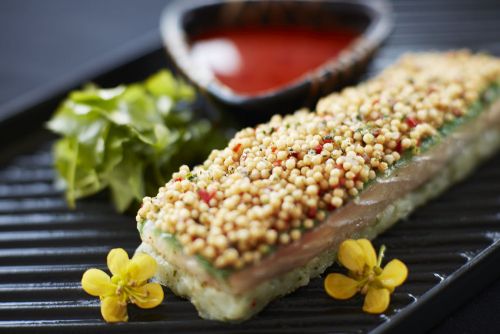 Gahori Lagot Baansh Tenga – Another all time favourite dish – pork with bamboo shoot in very light broth with a touch of bhoot jolakia. Usage of bamboo shoot comes predominantly with the abundance its available hence the prominence of bamboo from food to weaving .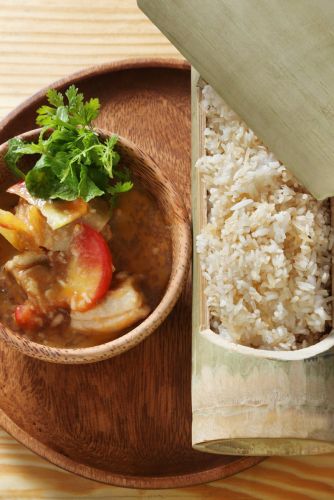 Goroi Maas Pitika – Side dishes called pitika (mashes) is a signature characteristic of this cuisine. The most popular is aloo pitika (mashed potatoes) For each one of the them the process is similar and it can be made with tomato or in this case with a local small fish called goroi maas . Garnish with raw onions, mustard oil, green chillies and sometimes boiled eggs.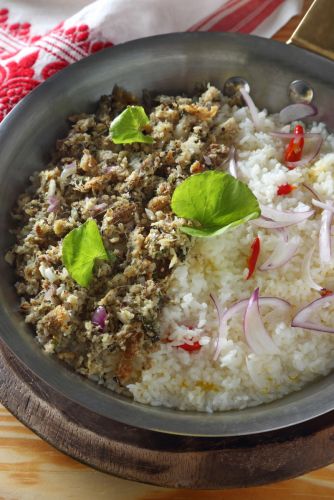 Haan Aru Koldil – Duck strictly is a festival meat and also a winter favourite , this preparation is made with banana flower and light spices.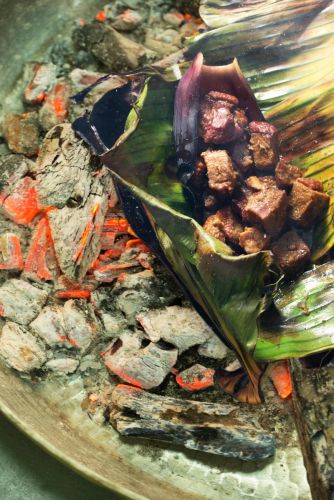 Kola Saul Payox – Black rice is considered an indigenous rice which is exclusive to this region in India, available both in Manipur and Assam.The kheer (payox) made out of this black rice is regarded as a prized dessert.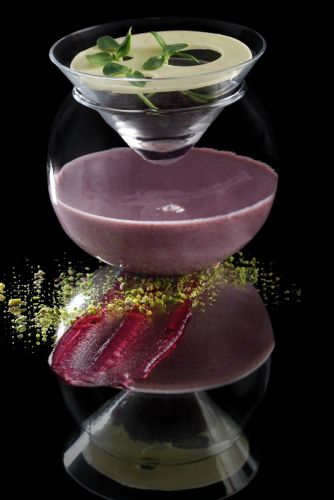 Manimuni Misa Maas – Manimuni (local pennywort) in a city abundant with greens ( infact during winters there are no less than 101 varieties) along with local herbs which are very unique to this part of the country.This preparation is an amalgamation of manimuni and prawns in a light curry(jhol), please note Assamese curries are very less of spices and cooked with minimal mustard oil making this a great healthy cuisine.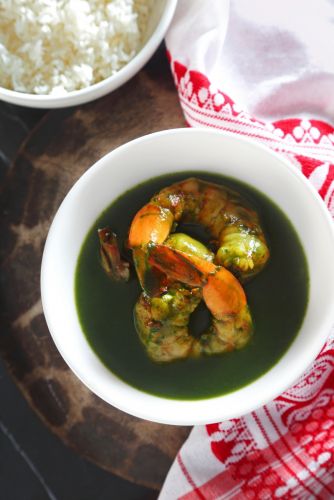 Pork Khorika – Khorikas and Puras are the most wellknown barbecues from the city, marinated with bare minimum spices on charcoal. The most popular is pork and fish.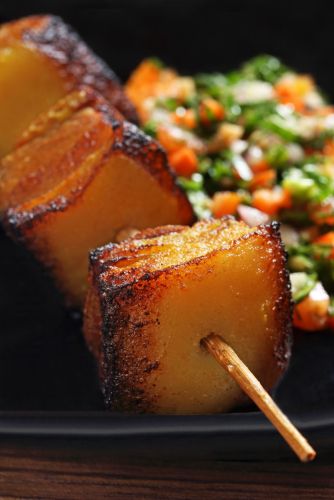 Sidhho Kukura Mankho – This is a boro delicacy made with zero oil , intense in flavour with lot of vegetables and local chicken.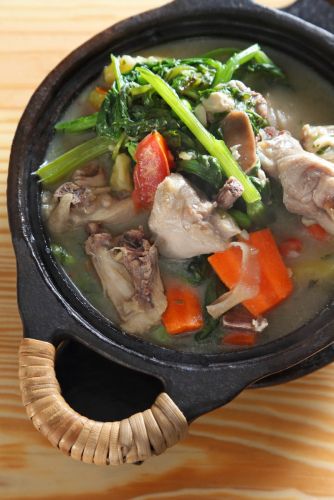 Pitha –  Pitha (rice cake) is a special class of rice preparation generally made only on special occasions like Bihu in Assam. Made usually with soaked and ground rice, they could be fried in oil, roasted over a slow fire or baked and rolled over a hot plate. Some pithas are Til Pitha, Ghila Pitha, Xutuli Pitha, Sunga Pitha, Bhapotdiya Pitha, Lakhimi Pitha, Tora Pitha,Tekeli Pitha, Deksi Pitha, Muthiya Pitha, Kholasapori Pitha, etc.
Laru – Larus are sweet balls that are associated with traditional Assamese food: Laskara, narikolor laru, tilor laru are often seen in Assamese cuisine.
Tea – Tea (Saah in Assamese) is an indispensable part of Assamese cuisine. It is served in form of Black tea, Milk tea, Spiced tea, Lemon tea (adding lemon juice to black tea/laal sa) etc.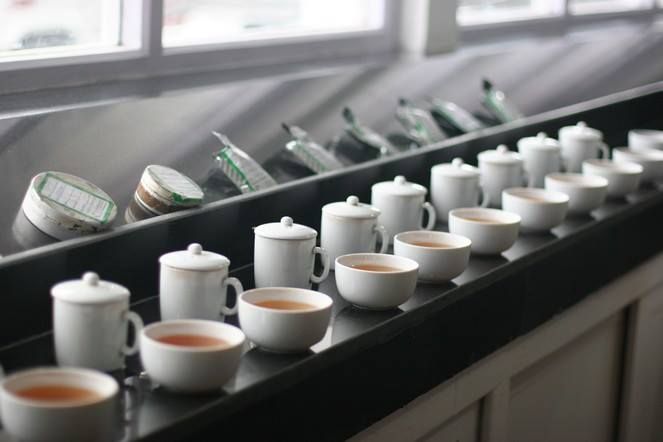 Executive Chef Anirban Dasgupta, who is currently in charge of the Food Beverage operations at Vivanta by Taj Guwahati believes in the culinary philosophy of "Source Local, Cook Global". While he explores the undiscovered Cuisine of Assam he wants to revolutionize the North Eastern cuisine by giving it a fresh and innovative perspective and all the dishes and the pictures has been shared by Chef Anirban. With the  long 16 years career at various positions in Oberoi and Taj, He is known to innovate and surprise and is always eager to handle the most challenging part of any restaurant – the Restaurant opening which is his  core strength , although its exhausting the fun but it's about  giving birth to a new concept .